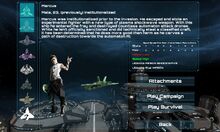 Ultimate - Marcus ship fires star-shaped shockwave, which damages most of enemies on screen and destroys most of enemy bullets.
Male, 23, (previously) institutionalized
Marcus was institutionalized prior to the invasion. He escaped and stole an experimental fighter with a new type of meson shockwave weapon. With this ship he entered the fray and destroyed countless automaton attack drones. While he isn't officially sanctioned and did technically steal a classified craft, it has been determined that he does more good than harm as he carves a path of destruction towards the automaton AI.
Starting Attachments
Edit
Speed - 2/5
Spread - 1/3
Side - 0/2
Beam - 0/1
Missile - 0/2
Power - 1/2
Plasma - 0/3
Drone - 0/3
Ship Stats
Edit
Power - Low
Speed - High
Ultimate - Meson Shockwave
Ultimate Stat - Meson
Marcus has higher rate of fire than others.
Community content is available under
CC-BY-SA
unless otherwise noted.